Anuga FoodTec India 2022
A ride to the future of intralogistics in the food industry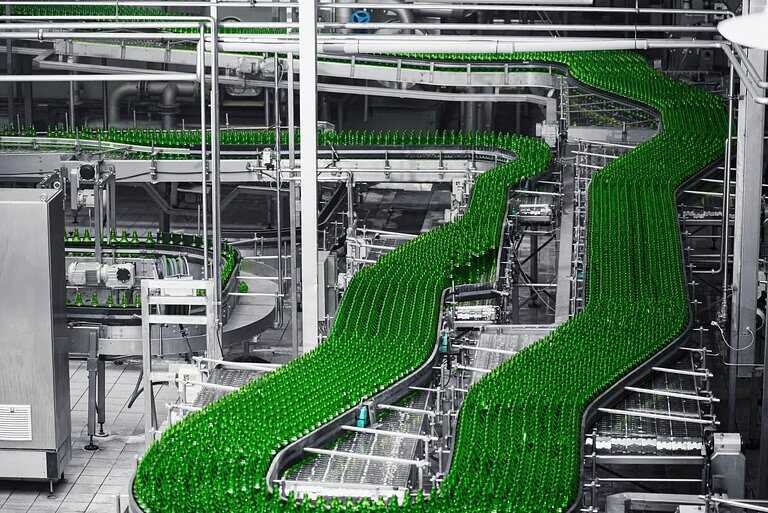 Photo - iStock
Author - Vini Sharma
Intralogistics plays a vital role in the food and beverage industry. Food production is now characterized by highly competitive pressures, stringent legal regulations, rising raw material and energy prices, and consumers with ever-changing requirements. Food producers are constantly on the lookout and must be increasingly flexible while working very economically. Due to the fragility and perishability of products, the industry has special storage and transportation requirements and care and hygiene are top priorities. Continuous coordination and further development of internal and external logistics services as well as a comprehensive understanding of the product are essential.
Over the years, this internal flow of goods has evolved from a necessary evil to a critical factor in corporate value creation. Only those who can deliver products quickly and flexibly without wasting capital or tying them up can win the competition. This has led to many shifts in the intralogistics of the food industry. Here are some latest trends from the segment to look out for:
Industry 4.0
The food industry is expanding its intrigue in computerized frameworks for intralogistics, and the venture level is also growing. This is why some industry 4.0 thoughts have long been a reality in intralogistics: transport frameworks that compose their in-company courses independently and palletizing robots that distinguish purge openings in real time and fill them up. These are just two examples of intralogistics arrangements that, much appreciated by imaginative IT, can be ended up inner 'full-service providers' — and compose their operations autonomously.
Digital management of industrial truck fleet
Food manufacturers are looking for ways to maximize their trucks' efficiency. Digital fleet management helps handle the vast amount of data and complex supply chains within the logistic processes. It includes tools that help track important truck data, identify optimization requirements and constantly update the fleet and its efficiency. Real-time performance data helps reduce the fleet size without impacting its productivity. Predictive maintenance is also gaining prominence since it helps detect potential vehicle defects at nascent stages.
Electric forklift trucks with lithium-ion technology
The food industry uses lithium-ion technology in trucks due to its ability to prevent contamination, harmless nature, and its convenience. The technology is helpful in cases where maximum operating times and high availability are required. Newer trucks have built-in chargers that can charge without an external charging station. This technology can bring a better return on investment for companies as the batteries do not need maintenance and have a shorter charging time than lead-acid batteries.
Internet of Things
Facilitated by the Web of Things, the 'smart supply chain' will coordinate data from raw fabric through to the ultimate client. As of now, 20 billion things over the globe have their claim IP address and are fitted with a chip or sensor and associated with the web. These things can, in this way, be localized and identified. They can also be associated independently with each other. The generation and conveyance of this arrangement are sorted out and processed autonomously.
Automated driving
To make production and delivery operations more reliable and efficient, companies are turning to full or partial automation in intralogistics. It enhances a company's competitiveness and improves its market dynamics and response to the food industry's evolving demands. Some of its future applications include
Assisted driving- Intelligent assistance functions help the driver in various tasks, but the driver is responsible for navigation.
Semi-automated driving- Trucks can navigate the premises with partial independence using sensors and artificial intelligence.
Fully automated driving- Through this final level of automation in intralogistics, trucks can be self-propelled and perform different tasks like carrying packaging materials, raw materials, and finished products to and from production lines. They can also be scaled to form automated logistic processes.
Driverless Transport System (DTS), a part of this automation, can be used to optimize internal transport. These move at a speed of 1-2m/s depending on the distance the truck requires to detect an obstacle, apply brakes, and halt safely. They can also store goods.
Smart trucks- In processes requiring high picking density, smart trucks help operators by following them through the warehouse and stopping automatically at the right pickup spot. They can reduce the pickup and drop time by up to 75%. This eliminates employee burden due to lesser loads and shorter routes, leading the lower back and joint strains.
Over the past few years, there has been a rise in developing client requests, energetic merchandise streams, and dynamic goods flow. This poses unused calculated challenges to the food industry and exchange. However, the food and beverage industry is the perfect scenery for a wide cluster of computerization arrangements. With robotized automated intralogistics forms, it plans to make strides to reply to the competition and advertise flow, in addition to the ever-changing prerequisites of the food industry.
In the coming times, for intralogistics in the food industry, cutting-edge technology, efficiency, resilience, safety, and fulfillment of strict hygiene standards will pave the way for manufacturers to ride victoriously into the future.
Click HERE to subscribe to our FREE Weekly Newsletter