Anuga FoodTec India
ANUTEC – International FoodTec India & ANUFOOD India 2023 Catalysing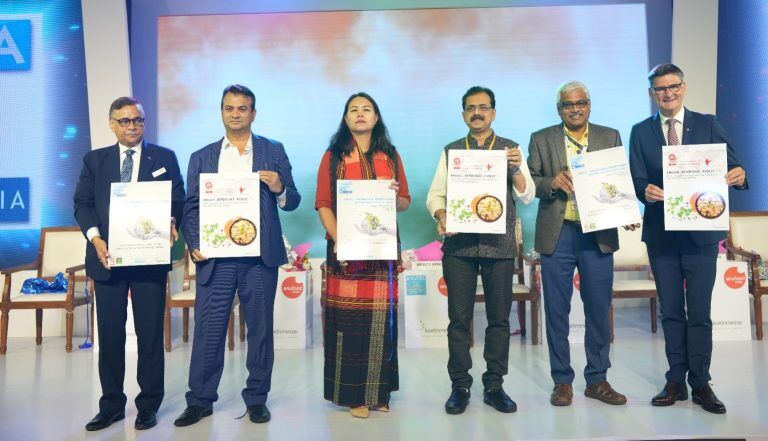 Mumbai: Focused on demonstrating a new shape of the food and food technology sector, the 17th edition of ANUTEC – International FoodTec India, co-located with ANUFOOD India and PackEx India kicked off today at the Bombay Exhibition Centre, Mumbai. With over 40,000 visitors expected from across India and beyond, these expos reflect the sector's imminent growth. India's food processing sector, aiming to double its GDP contribution from 8% to 20% by 2030, resonates with the innovation-driven spirit of ANUTEC – International FoodTec India and ANUFOOD India, uniting industry leaders, innovators, and stakeholders to unlock the sector's vast potential.
Dignitaries and industry leaders of the highest order, including Ms. Mercy Epao, Joint Secretary (SME), Ministry of MSME, Govt. of India, Dr. Jitendra Dongare, Deputy AMA, Ministry of Food Processing Industries, Government of India, Oliver Frese, COO, Koelnmesse GmbH, Mr Milind Dixit – Managing Director, KMPL graced the event. The presidents of AFSTI, Dr. N. Bhaskar, and AIFPA, Dr. Raghav Jadli, also contributed their insightful opinions. With an expansive 38,000 sqm exhibition space and over 800 companies from over 28 countries, this year's event scaled new heights. Specialized pavilions from Brazil, the Philippines, Turkey, Indonesia, Korea, Italy, and Iran usher in a new era of development and innovation.
The key exhibitors of the event include Heat & Control, Ace Technologies, Apollo VTS India Pvt. Ltd., Siemens Ltd., Bossar Packaging India Pvt. Ltd., Nichrome India Ltd. Gopal Snacks Pvt. Ltd., Shubham Goldiee Masala Pvt. Ltd., Pushp Brand (India) Pvt. Ltd., Tata Consumer Products, Amar Tea Pvt. Ltd., Haldiram Snacks Pvt. Ltd., amongst many others. Supported by industry stakeholders and associations like All India Food Processor's Association (AIFPA), The Indian Federation of Culinary Associations (IFCA), Federation of Freight Forwarders' Associations in India (FFFAI), The Society of Indian Bakers (SIB), and Association of Food Scientists & Technologists India (AFSTI), these events boost and facilitate the sector.
In his inaugural address, Shri. Prahlad Singh Patel, MOS, Ministry of Food Processing Industries, Government of India emphasized, "Today's exhibition is the representation of 'Atmanirbhar Bharat,' that reflects the distinctive power of our market and the technological innovation that underpins India's development. The Pradhan Mantri Kisan SAMPADA Yojana (PMKSY), Pradhan Mantri Micro Food Processing Enterprises (PMFME) scheme, and the Production Linked Incentive (PLI) Scheme are three pivotal programs actively championed by our Ministry. These initiatives raise our industry to meet global quality and safety standards, benefiting the entire food processing value chain. The Government of India has allocated Rs. 4600 crores to sustain PMKSY, and recently, the allocation of an additional Rs. 920 crores to PMKSY, reaffirms its commitment to sector growth and development. Our government always stands ready to support technological advancements and competitiveness whenever the need arises."
Ms. Mercy Epao, Joint Secretary (SME), Ministry of Micro, Small & Medium Enterprises, Government of India said "MSMEs play a significant role in the Indian economy, providing over 30% of the GDP, almost 50% of exports, and 45% of industrial output. The ministry runs around 20 specialized programs, one of which reclassifies MSMEs in accordance with investment. Their goal is to achieve at least 50% female presence in MSMEs by 2047, making them India's top employers. There are ongoing programs like a registration push for female entrepreneurs and improved subsidies for women-owned firms. The ministry's "Zero Effect, Zero Defect (Z) scheme" encourages environmental sustainability while assisting first-time exporters. A 50,000 crore Self-Reliant India Fund has also been formed to aid MSMEs in diversifying. Even in the face of COVID-19 problems, reducing regional inequities and promoting resilience remain major priorities. The Ministry of MSME is dedicated to empowering small businesses and assisting MSMEs in the fast-paced business environment of India."
"We have specific schemes tailored for every category of industry, be it micro-entrepreneurs, MSMEs, or large industries, aimed at bolstering the food processing sector. With programs like the Pradhan Mantri Formalization of Microentrepreneurs TMMM scheme, the Pradhan Mantri Kisan Sampada Yojna for MSMEs, and the Production Link Incentive Scheme for major businesses, India is positioned to become a hub for the world's food supply. There is a great deal of opportunity for multinational firms to see India as the go-to location for food processing and exports on a global scale since we have access to an abundance of raw materials and undeveloped processing capacity." said Dr. Jitendra Dongare, Deputy AMA, Ministry of Food Processing Industries, Government of India
Speaking on the occasion, Mr Milind Dixit, Managing Director, Koelnmesse India said, "The government's initiatives, such as the creation of Mega Food Parks, the Pradhan Mantri Kisan Sampada Yojana, and the recent INR 10,900 Crore PLI scheme for food processing, became the cornerstone for a robust food processing infrastructure and supply chain in India. ANUTEC – International FoodTec India and ANUFOOD India 2023 emerge as the very crucibles of potential within India's culinary landscape These exhibitions collectively serve as centres for innovation, collaboration, and exploration, propelling India to new heights in the global food processing arena and promising a brighter future for the industry."
India's emerging food processing sector, set to generate 9 million jobs by 2024 and attract USD 4.18 billion in foreign direct investments (2014-2020), is poised for significant growth. By 2030, India's household consumption will quadruple, making it the world's fifth-largest consumer of food and food technology. The sector significantly contributes to India's economy, accounting for 13% of exports and 6% of industrial investment. With a market size of USD 1.3 billion, the thriving Indian gourmet food sector sustains an impressive 20% Compound Annual Growth Rate (CAGR). These trends underscore the significance of ANUTEC – International FoodTec India and ANUFOOD India.
Alongside the display of the latest technologies at the 3-day exhibition, the high definition ANUFOOD 2023 conference covered topics including 'Innovations in Texture, Taste Consistency for Plant-Based Products', and 'The Role of Plant Protein Clusters in Providing Solutions and Advancements'. The key speaker for the session includes Jasmine Bharucha, Founder at Katharos Foods, Pradeep Rao, Co-Founder and CEO at Evolved Foods, and Mr C S Jadhav, CEO, Nutri Circle amongst others. Additional forums like the Packaging Theatre, Culinary Corner, and Innovative Trend Zone further enriched visitors' experiences.
Another key highlight was the power-packed conference session on the theme 'Empowering FoodPreneurship: The Startup School – Nurturing Success for Aspiring Entrepreneurs' with esteemed speakers such as Mr Nilesh Lele, President Chamber for Advancement of Small & Medium Businesses, Mr Prashant Naigaonkar, Startup Mentor and Partner at RampUp Advisory LLP, Dr. Vaidehi Kalzunkar, Deputy Director FSSAI, Govt. of India and more.
Koelnmesse Pvt Ltd has introduced ANUGA Select India, a global trade fair for the food and beverage industry, formerly known as ANUFOOD India. This transformation under the leadership of Oliver Frese has expanded the impact of the ANUGA brand, offering significant growth and collaboration opportunities to India's thriving F&B sector. ANUGA Select India uniquely showcases India's culinary richness, innovation, and business potential, effectively extending ANUGA's global reach and fostering international partnerships. Alongside this development, Anutech International FoodTech India has now transformed with ANUGA FoodTech India, further enhancing opportunities in the food technology sector. The event's specialized zones provide a comprehensive view of India's F&B landscape, inviting participants worldwide to explore India's culinary excellence and tap into burgeoning business opportunities.
Press Coverage By:Apnnews.com