Anuga FoodTec India
Global Titans of the Industry set to converge at ANUTEC International FoodTec India 2023
With just 3 months left, India's Biggest International Supplier Fair for Food & Drink Technology set to welcome 500 exhibitors from across the globe.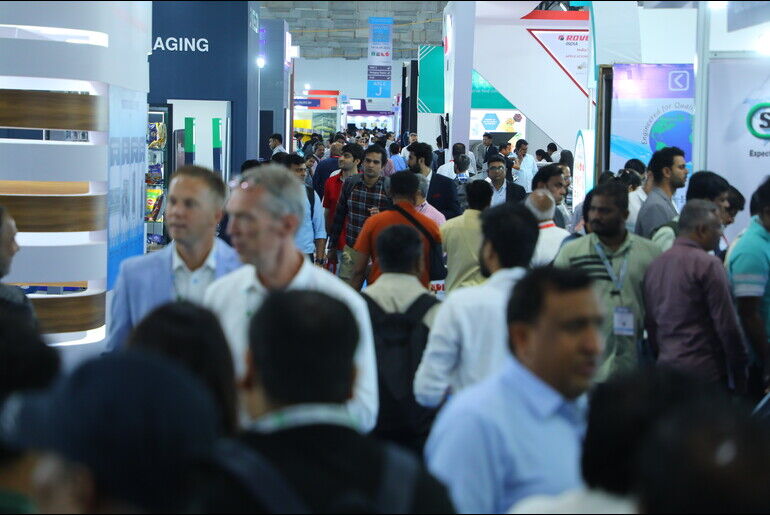 ANUTEC – International FoodTec India 2023, the country's premier expo for the Food & Beverage Industry is all set to host its 17th edition from 7-9 September at Bombay Exhibition Centre, Mumbai. ANUTEC has achieved the enviable distinction of being the biggest B2B trade fair for the food and beverages industry in Mumbai. Co-located with PackEx India & ANUFOOD India 2023, ANUTEC keeps their focus on innovative blueprints, bold ideas and cutting-edge solutions under one roof.
This event offers an exhibition space of 38,000 sq.m. The visitor strength that is expected for the trade fair is approximately 20,000 with over 500 exhibitors from different parts of the world set to exhibit their range of innovative products & solutions that are expected to uplift the future of food and beverage processing. The event focuses on the Automation & Digitalization of the food processing industry. In line with the current year's theme, Siemens, Metter- Toledo, IFM, Fuji Robotics, etc. would be the key exhibitors for this event, displaying their range of technologies. Further, the Automation Industry Association (AIA) would be offering their expertise by organizing a technical workshop that highlights the latest usage of automation technology in processing intra-logistics.
Leading stake holders of the industry and the industry known associations such as All India Food Processors Association (AIFPA), Indian Flexible Packaging & Folding Carton Manufacturers Association (IFCA), Federation of Freight Forwarders Association of India (FFFAI), Society of Indian Bakers (SIB), Association of Food Scientists & Technologists of India (AFSTI) have offered all the necessary support for the event. The exhibition will be complemented with a series of technical workshops, seminars and conference sessions, covering a range of topics such as food safety, sustainability, intra-logistics, govt support schemes enabling growth of SME sector, start-ups forum, food & beverage packaging and processing, new product development and much more over its three-day run.
The trade fair boasts of a range of special features, such as dedicated pavilion for 'New- Entrants' highlighting the new innovative technologies in processing & packaging segment. The 'Intra-logistics' pavilion is set to highlight the leading players, displaying their range of products in storage systems, supply chain logistics and digitalization. The state-of-the-art 'Packaging Theatre' supported by Innova Market Insights will display the global trends in the food & beverage packaging.
Mr. Milind Dixit, Managing Director, Koelnmesse India commented – "The food processing sector in India has a significant capacity to positively influence the country's economy due to its rapid growth. The industry is fast evolving and has seen some major changes in terms of changing consumption patterns due to urbanization, changes in the gender composition of the workforce, and growing consumption rates. The food processing sector in India is one of the world's largest, with output anticipated to reach $535 billion by 2025-26. Although the industry has experienced steady growth over the years, there remains substantial untapped potential that must be harnessed to promote the growth of the country." Adding further, he stated – "As we gear up for the 17th edition of ANUTEC – International FoodTec India, we are committed to deliver an unparalleled experience for our exhibitors and visitors, bringing together the best of the technologies in the industry and provide plenteous opportunities for growth, knowledge sharing and collaboration."
Some of the top players from F&B Industry have come on board as exhibitors. Prominent names from the list include GEA India, Hosokawa Micron India, Ace Technologies, Food Processing Technologies, Heat & Control, Kanchan Metals, Mamta Machineries, Andritz Separation & Pump Technologies, Apollo VTS, Bonfiglioli Transmissions, Busch Vacuum, Clevertech, Fresco NZ, Fuji Yusoki Kogyo, Galaxy Sivtek, Ice Make Refrigeration, Jaw Feng Machinery, Leister Technologies India, Penta Auto Feeding India, Russell Finex Sieves & Filters, Sejin Tech, Shri Vibracion Technologies, Solid and Automation Technologies, Trio Motion Technology India, including many more companies.​
The visitor pre-registration platform has already gone live. Further, the inclusion of AI based business matchmaking tool would enable the registered attendees to not only explore the suppliers for their requirements, but would also be able to pre-fix their meetings with exhibitors. This feature enables the visitors and exhibitors to best utilize the time on the show floor.
ANUTEC – International FoodTec India is organized by Koelnmesse Pvt. Ltd. (formerly known as Koelnmesse YA Tradefair Pvt. Ltd.).
About Koelnmesse
Koelnmesse is an international leader in organizing trade fairs in the field of food and beverage processing. Anuga FoodTec and ProSweets Cologne are established, world- leading trade fairs, hosted in Cologne/Germany.
In addition to the events at its Cologne headquarters, Koelnmesse also stages further food technology trade fairs with different sector specific areas of focus and content in key markets across the world, including India, Italy and Colombia. These global activities enable Koelnmesse to offer its customers bespoke events and leading regional trade fairs in a variety of markets, thus creating the foundation for sustainable international business. Koelnmesse is also ideally positioned in the field of food and beverages with its leading international trade fairs Anuga and ISM and its global network of satellite events.
The upcoming events that are scheduled to take place later this year and early next year are as under:
Cibus Tec, Parma, 24.10. – 27.10.2023
Andina Pack – Bogotá, Colombia, 27. -30.11.2023
Anuga FoodTec, Cologne, Germany, 19. -22.03.2024
Press Coverage By:foodinfotech.com