Anuga FoodTec India 2022
For food manufacturers, sustainable and future-proof equipment is the way to go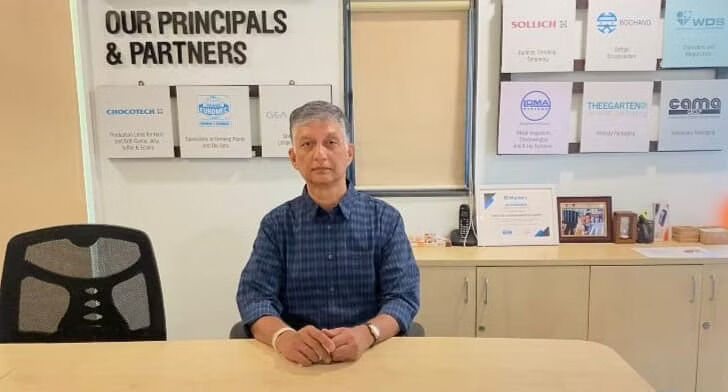 Nirav Sampat, managing director, Vedic Pac Systems
Published By - FoodTechBiz Desk
The food processing equipment at a facility is the heart of the production process. It demands proper maintenance, programming, careful handling, and cleaning to ensure optimum efficiency. Adopting the latest technology makes the equipment ready for future advancements and allows the manufacturers to get the most out of their investment.
Recently, Food companies are increasingly leaning towards purchasing equipment that saves costs and time and has a reduced environmental impact. Food equipment manufacturers are therefore paying special attention to developing sustainable equipment to achieve the same.
Choosing the right equipment
When choosing what equipment to buy for their product needs, food companies have varying checkboxes that need to be ticked. Nirav Sampat, managing director, Vedic Pac-Systems, feels that sustainability and future-proofing are two key factors to consider when making a purchase decision. He said, "Process equipment should be designed to enhance their carbon footprint reduction capacity. They should also have sufficient versatility to handle ingredients that may come into the allergen category in the future." Adding to this, he shared that energy saving and cleanability are two domains that drive advancements in this sector.
The impact of ingredients
Indian foods are essentially a wonderful concoction of spices and indigenous ingredients. These tend to have an impact on the equipment handling them. It, therefore, becomes important for equipment manufacturers to design them in a way that causes minimal staining and intermixing of ingredients. Sampat said, "Ingredients are different; hence processing parameters are too. For instance, we use besan in many recipes. Besan has different properties in terms of handling and processing. Also, we use a lot more spices in the recipes. Turmeric is one such spice. Processing equipment should have strong CIP (Cleaning in Place) so that no traces of turmeric remain in case of a change of recipes (color cross-contamination)."
The Indian scenario
Sampat believes in the need for minimized sophistication in processing equipment in India. Explaining his stance, he said, "Too much electronics makes the equipment too sensitive. Operators are not able to adapt to that level of sophistication." To solve the issue, he proposed an in-house team of supervisors to continuously support the users.
However, he feels that India's food processing equipment market is witnessing a strong shift from an unorganized to an organized sector. He elaborated, "Brand loyalty is increasing among consumers based on food safety. In turn, manufacturers opt for high-speed, sophisticated equipment that conforms to cGMP (Current good manufacturing practices)."
With four decades of experience, Vedic Pac- Systems offers a strongly client-focused approach to delivering turnkey solutions to the confectionery, chocolate, bakery, dairy, spice, food, pharmaceuticals, and healthcare industries in India. The company will participate in the upcoming 17th edition of ANUTEC- International FoodTec India 2023, held at the Bombay Exhibition Centre, Mumbai, India, from 7 to 9 September.
Click HERE to subscribe to our FREE Weekly Newsletter