Anuga FoodTec India 2022
Spotlight on the food processing equipment market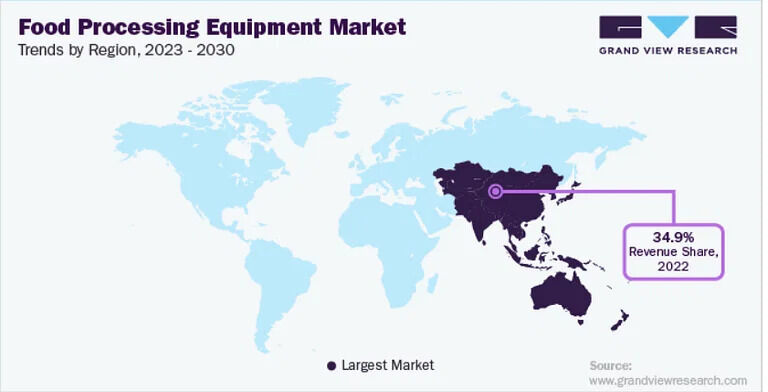 Photo - www.grandviewresearch.com
Published By - FoodTechBiz Desk
In recent years, the market for food processing equipment has been in good shape. The introduction of new technologies, development, and innovative products offers a mountain of opportunities to food manufacturers and propels the market further. In 2022, the global food processing equipment market size value stood at USD 50.80 Billion and is set to grow at a compound annual growth rate (CAGR) of 4.0% from 2023-2030.
How is the market divided?
Based on region, the food processing equipment market is divided into North America, Europe, Asia Pacific, Central & South America, and Middle East & Africa. With a revenue of 34.9% in 2022, Asia Pacific holds the highest market share in this segment.
Mode of operation divides the market into automatic and semi-automatic. As of now, the semi-automatic category accounts for most of the total market share. However, automatic processing equipment is set to rise significantly from 2023 to 2030 due to high demands for automation, technological advancements, and the focus of companies on research and development.
Application-wise, the market is bifurcated into bakery and confectionery, meat, poultry and seafood, beverage, dairy, fruit, nut and vegetable, grains, and others. In 2022, the bakery and confectionaries segment held the largest revenue share at 21.6%. Coming close to it is the meat, poultry, and seafood segment which is growing fast. Factors like the health perks of consuming seafood and switching to healthier lifestyles are pushing consumers to demand more from this segment.
According to types, the market is segmented into processing and pre-processing equipment. The processing equipment displays a clear dominance in the market presently with a 52.8% share in 2022. The demand for pre-processing systems is projected to rise from the South American and Middle Eastern and Central nations due to rapid urbanization, changing eating patterns, and industrialization.
End product form divides the market into solid, liquid, and semi-solid categories. Out of these, solid products account for the major portion of the market share.
Delving deep - Market overview and trends
The large-scale adoption of a plant-based diet is pushing manufacturers to innovate traditional equipment that was earlier designed to process meat-based foods.
The advent of green technologies is encouraging processors to replace old equipment with ones that are more energy efficient and reduce the carbon footprint and production costs.
The concept of Industry 4.0 is improving the existing equipment by incorporating machine learning (ML) and the Industrial Internet of Things (IIoT). This offers manufacturers more control and efficiency in their processing operations. They are also customizing machines for customers.
Growing investments in R&D by food processing companies are driving the growth of the processing equipment market.
Hectic lifestyles and the demand for hygienic ready-to-eat foods are causing a rise in the demand for food processing equipment, driving its market growth.
In places that do not have cold chain facilities, there is a requirement for shelf-stable food products. New technological developments to cater to this need in such areas create a potential for food processing equipment market growth.
An increase in disposable income and a rising population are gradually making their way to raising the demand for meat and poultry and other processed products. This is giving a boost to market growth for food processing equipment.
Robotic equipment is widely used in automated food processing machines around the world.
A rise in the demand for leisure foods in countries like Japan, India, China, Indonesia, Malaysia, and others is propelling the market of food processing equipment.
Measures like pollution control and reduction in food losses are a great way to improve food security in the world. These can be implemented by the advanced and normal processing equipment. This, in turn, can provide an opportunity for equipment manufacturers in the coming times.
Market drivers and restraints
Food manufacturers are rapidly understanding the impact that data-driven insights have on food safety and quality, the use of raw materials, traceability, and continuous improvement. The wave of advancement in computerized food processing technology has made automation and robotics an integral part of the food industry. Equipment such as robotic butchery machines ensures a fast process and a safe working area since workers depend less on potentially dangerous tools. Therefore, automation and robotics are key drivers in this domain.
To remain competitive in the market, food manufacturers need to maintain an increasing number of SKUs (Stock Keeping Units), coupled with seasonal peaks. They also need to make sure that their products follow strict food safety and quality regulations. Customers often demand adjustments in machine settings that put added pressure on manufacturers. Additionally, consumers are served with a lot to choose from online. There is heightened demand, ranging from sizes, packaging types, and flavors to organic, dairy-free, and other specialty foods. These factors make it difficult for equipment manufacturers to maintain their production of SKUs amongst complex processing machinery
Leading the game
The key players in the market are focused on mergers and acquisitions to expand their global presence. They are also working on development and new product launches to have an edge over competitors.
Globally, the top companies in the domain include BAADER Group, Marel, Bühler AG, GEA Group, Fenco Food Machinery, The Middleby Corporation, Tetra Laval International S.A., Alfa Laval, Krones AG, JBT Corporation, SPX Flow Inc., LEHUI, S.L. (MAINCA), FENCO Food Machinery s.r.l., Bigtem Makine, and TNA Australia Solutions.
In India, the top slots are held by Kanchan Metals, Suri Engineers, Grace Food Processing and Packaging Machinery, GOMA, Gee Gee Foods and Packaging, and New Era Machines among others.
Through the crystal ball
Processed foods and beverages are found in every nook and corner of grocery stores worldwide. Thus, it is easy to see that the future of food processing equipment is bright. Fast and packaged food demand will compel manufacturers to expand their production abilities. This will lead to a rise in demand for these machines. Health factors, economic independence, and environmental consciousness among consumers will give equipment manufacturers tremendous opportunities to hone their craft and gain a stronghold in the food industry market in the times to come. From now, it is only onwards and upwards!
References
https://www.grandviewresearch.com/industry-analysis/food-processing-equipment-market
https://www.imarcgroup.com/food-beverages-processing-equipment-market
https://www.futuremarketinsights.com/reports/food-processing-equipment-market
https://www.marketsandmarkets.com/Market-Reports/food-processing-equipment-market-121668697.html
https://www.alliedmarketresearch.com/food-processing-machinery-market
Click HERE to subscribe to our FREE Weekly Newsletter