Anuga FoodTec India 2022
The movers and shakers of food - Material handling and storage equipment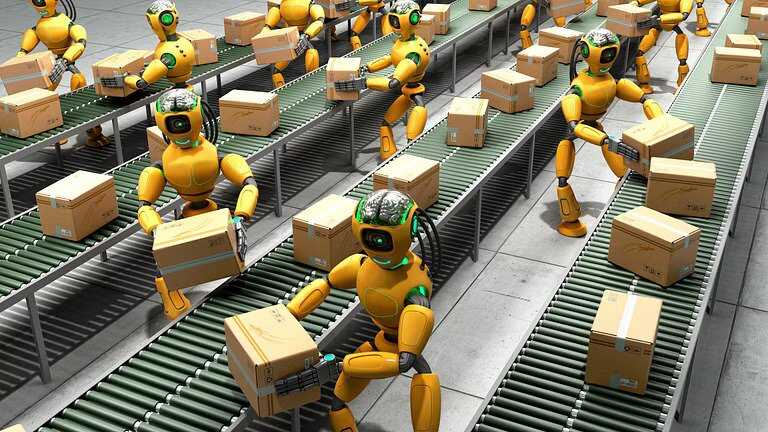 The image is for representation purpose only Photo - iStock
Author- Insha Naureen
Food, as a product, is fragile and biological, making it more prone to deterioration than other substances. This makes material handling in the food processing industry very critical. Appropriate designing of storage and transportation systems is integral to running a successful and efficient factory with food as its focus.
Material handling is a system of processes that help store, protect, move, and control products. Well-trained staff, efficient coordination and planning, and dedicated equipment are the components of a competent material handling system. Material handling has a big role to play at all stages of the supply chain, be it raw materials and manufacturing or distribution and consumption.
A food storage warehouse is also an important area where safe and efficient material handling systems are important. Efficient handling of the inventory has an impact on product quality. Material handling is, therefore, an important part of logistics and supply chain management. A well-designed material handling system ensures the safety of food and beverage products, lowers handling costs, improves business efficiency and better inventory management and flow.
Types of material handling equipment
Generally, material handling equipment is of four types
Automated systems
Also known as engineered systems, these are used to transport and store materials. They help workers by reducing the need for manual labor for various tasks. Mentioned below are some of the popular automated systems used in material handling.
AGVs (Automated guided vehicles)- These are trucks equipped with sensors and detectors operated by computers. They can be completely autonomous and safely move materials on a fixed path around the premises.
AS/RS (Automated Storage and Retrieval Systems)- These systems use a shuttle that picks up loose materials, either manually or automatically and places them on required parts of the system. For easy processing, they are often added with shelves, racks and aisles and can also be monitored when connected to a company's network.
Conveyor systems- They help automatically transport materials within the factory and consist of various mechanical attachments and devices. These can be of many types based on the products being handled, such has chain, overhead, cleated, vehicles and apron.
Delivery robots- Automated robotic systems deliver and transport materials on the assembly line.
Industrial trucks
These trucks are designed to help with material transport and range from being small, hand-operated to huge, drivable equipment. Workers can load and stack material on stacking trucks, while non-stacking trucks are used solely for transportation. Listed below are some of its variants.
Order pickers- When workers need to pick up materials from hard-to-reach areas, order picking trucks safely lift them up and help them grab the required goods.
Sideloaders- These trucks can fit between narrow aisles and help workers pick materials on either side.
Hand trucks- Popularly referred to as dollies, these trucks consist of a platform on wheels. They help operators in rolling heavy materials to various locations.
Forklifts- Also known as pallet trucks, forklifts consist of forks that slip under the pallet to lift it. They secure the pallet safely while it is transported to other locations. Electric and manual forklifts are often found in warehouses.
Storage and handling equipment
These systems help organize and store the materials safely before they go for further processing or distribution. Some widely used storage and handling equipment include
Racks- These help companies save floor space by storing goods in accessible sites. Workers can use sliding racks, drive-in or drive-through racks, pallet tracks and push-back racks.
Mezzanines- These are raised platforms created within the factory that offer a secondary storage area above the ground. This helps companies store goods vertically and save warehouse floor space. They can be rack supported, free-standing, modular or movable.
Bulk material equipment
This equipment helps workers store, transport and control bulk material in loose form. Some of the main types of these systems include
Stackers- These are an integral component of bulk material handling. They are automated and can move materials to stockpile areas for future use.
Hoppers- These are huge funnel-shaped equipment with closable openings and are used to pour loose material into containers.
Bucket and grain elevators- Also called as grain legs, they help move and transport bulk materials vertically.
Reclaimers- These are big machines designed to pick up loose materials from a stockpile.
Conveyor belts- An essential part of conveyor systems, these belts rotate using drums or pulleys and transport bulk materials from one area to another.
Selecting the right material handling equipment
When deciding to purchase any material handling equipment, companies must consider a few factors that will help them extract the most from their investment. Based on their needs, a few considerations are discussed below.
Layout of the premises- The available space for placing the equipment, whether it can fit between aisles, and navigating freely are key factors in deciding the equipment.
Cost factor- To get the most value for money, it is important to consider equipment maintenance and operating costs.
Type of material- The type of material to be handled (solid, liquid or gas) and its size, shape and weight are deciding factors while buying an efficient equipment.
Movement during production- For production flow between two fixed points, a full conveyor system will suffice. However, for a regularly changing production flow, it is important to choose machinery that can change directions and move through the facility.
Facility structure- The equipment should be compatible with the factory's doors, ceiling, floor, and structural quality.
Reliability- To ensure a smooth production flow, choosing a trusted supplier is non-negotiable. Apart from a good quality product, prompt after-sales service is an important factor in purchase decisions.
Over the years, material handling in the food industry has tried to evolve with the changing technology. Looking forward, manufacturers need to explore new areas of automation along with its cost-effectiveness to implement advanced digital technologies and analytics. The path to success relies on customer satisfaction, connection and fulfilling their needs as they fluctuate with the times.
Click HERE to subscribe to our FREE Weekly Newsletter