Anuga FoodTec India 2022
The Power of Digital Twins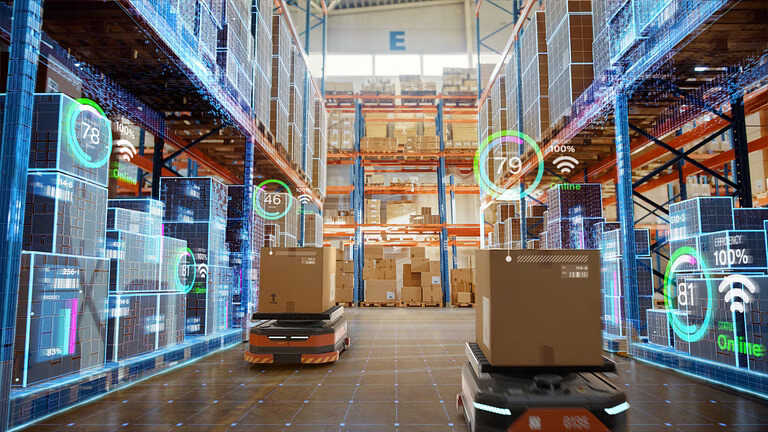 Photo - iStock (Gorodenkoff Productions OU)
Author - Insha Naureen
The food manufacturing world is evolving rapidly. With products being manufactured, packed, and transported left, right, and center, the food supply chain becomes a mixed bag of complex steps. This makes intralogistics in the sector rather complicated and tough to manage. From 3D printing and augmentation to robotics and machine learning, new technologies are changing how the food industry works. Companies are increasingly burdened with safety guidelines, consumer demands, and enhanced work efficiency. Among these thriving technologies in the era of Industry 4.0, a new application is emerging that helps food companies deal with all these industrial shifts. It is a technology that helps companies in their operations and supply chain management by tracking consumer demands and product details at once. This is the Digital Twin.
Diving into the concept
The digital twin is a core element of Industry 4.0. It is a virtual model of a product, machines, or the production process that allows real-time analyses of the production condition based on data collected by sensors. Real-time data integration provides a comprehensive model that can help manufacturers with decision-making. It brings the real and virtual world together and more precisely validates production with real-world supply chain and operations information. In the past, static modeling has helped in certain areas. Still, with the rising pressure on companies to launch new products, predictive digital twins offer intelligent ways to model all stages of the manufacturing process.
A digital twin may be
Imaginary- Simulate reference objects
Monitoring- Monitor in real-time the state and behavior of an object
Predictive- Forecast future states and behavior of an object
Autonomous - Using artificial intelligence
Recollection - With historical data
In the food industry, a digital twin helps with
Product development and food reformulation
Enhanced scale-up of prototypes to production
Supporting the food supply chain by detecting critical events and tracking the current state of food
Managing the intralogistics
Intralogistics refers to logistics within a warehouse. Due to the rising pressure of handling larger volumes at faster speeds, manual warehouse operations need to fulfill their purpose. This is fueling a demand for digital solutions. The demand for digital solutions is rising due to overwhelming pressure on manual warehouses to handle greater volumes at higher speeds, all while having finite resources.
Through a real-time 3D simulation of the physical warehouse, digital twins can depict the workflow, and staff allocation, the location of the highest pick or replenishment, and how full a facility is. Executing against defined business rules and objectives, analytics can spot patterns and recommend process adjustments to enhance efficiency, profitability, sustainability, or other goals.
Specifically for supply chain and intralogistics management, a Supply Chain Digital Twin can be used to understand a supply chain's behavior, devise an action plan, and predict erratic situations. It is an exhaustive simulation model of a real supply chain and uses photos and real-time data to predict supply chain workings. A supply chain digital twin can be used for
Optimizing the inventory
Testing and forecasting operations
Discerning supply chain dynamics and behavior
Bottleneck identification
Testing design changes and development in the supply chain
Monitoring risk and testing crises
Devising transportation plans
Traversing the benefits and challenges
By using digital twins for warehouses, manufacturers can create simulation scenarios that help optimize shift planning, and identify logjams and peak loads to enhance productivity and material flow. The smooth interaction between the real and digital worlds offers benefits like increased plant flexibility and productivity and reduced costs and energy consumption, ultimately reducing carbon footprints.
The key technologies used in warehouse intralogistics are automated guided vehicles (AGVs), automated storage and retrieval system (ASRS), shuttle systems, sortation systems, and conveyor systems. A digital twin of all these can be made without needing any physical material. For instance, a conveyor system can be designed using a Mechatronics Concept Designer that can simulate the movement of mechanical parts virtually before the material for machines is brought for manufacture. Digital twins help reduce the time taken to develop a machine and send it to the market. So, in the digital world, a company can first simulate its entire machine without having any material with it. Once the concept is ready, manufacturers can directly start manufacturing the machine.
The logistics and intralogistics industries have challenges. They must deal with energy efficiency and sustainability demands, cybersecurity threats, and labor shortages. The process of creating and implementing digital twins faces bottlenecks too. Some of the challenges faced include obtaining relevant information and access to enough historical data to train the system, unstructured data, gaining access to manufacturers, marketing plans, shipping schedules, and air and rail availability. Organizational hindrances in getting enough energy and resources and making both parties understand what changes are needed and how they will benefit them also hinder the progress of creating a digital twin.
Navigating to the future
Digital twins have a nearly limitless future because of their ability to constantly learn new skills and capabilities. This allows them to give actionable insights on improving processes and products. Food manufacturers gradually realize the importance of digitalization solutions for sustainable warehouses and intelligent supply chains. They are open to new concepts like the digital twin and understand its potential to change the future of intralogistics. It can help them plan their future distinctly and make the correct decisions fast. Digital twins give answers to questions like "what if," and this allows companies to make production decisions that help their business earn high returns on investments. They also help improve the performance of a system, lead to cost savings, and extend the system's life.
As of now, these are used for complex machines and processes, but in the future digital twins may become a part of homes for energy management optimization. Achieving mass use of this technology will need engineers and technicians to be skilled enough to use these new tools and understand their power and limitations.
Click HERE to subscribe to our FREE Weekly Newsletter