Anuga FoodTec India 2022
Automation trends - The food industry embraces cobots and machine vision on the shop floor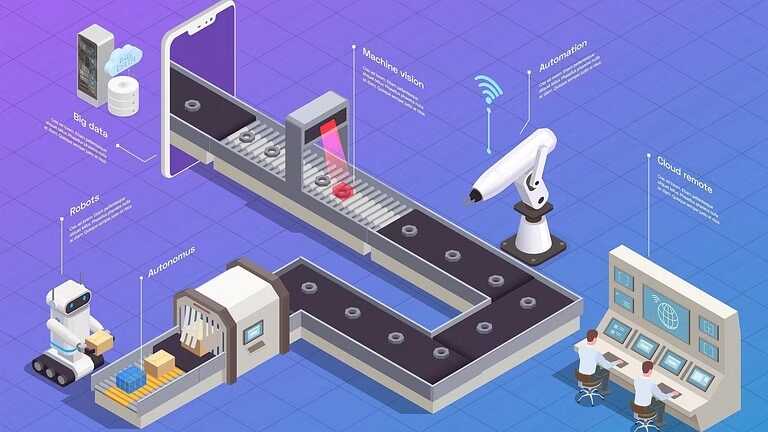 Photo - macrovector via freepik
Author - Vini Sharma
21st-century modernization has had a lot up its sleeves. Technological advancement today is far better than ever and has witnessed the global population in awe. From an amalgamation of hardware and software technologies that enable control and management over appliances and devices within your home to electronic navigation systems, or highly advanced technology and algorithms behind self-driving cars, the results have been nothing short of perfection.
The food automation industry has also observed tremendous developments, from supply improvement to demand management over the last few years. Earlier, automation was a medium used to increase productivity and reduce the cost associated with human labor. However, the scenario has changed, making automation a key factor in improving quality and flexibility in the manufacturing process today. It contributes to better accuracy and efficiency for food businesses, steering away from any lack of alignment on inventory levels and decreasing the chain carbon footprint by breaking down the supply cycle. Automation also helps cut down on food waste by providing an end-to-end solution that delivers accurate data on the amount of stock needed based on real-time demand.
Noteworthy adoption, prompted by the pandemic, has led to the food industry becoming mainstream. It is, without a nick of a doubt, showcasing some of the biggest industrial automation trends. The rise of the food industry is also attributed to the large population segment under the influence of urbanization, shifting eating preferences from freshly cooked homemade meals to grab-and-go food and ready-to-eat meals. These shifts endorsed the value of automation in the food industry and led to food manufacturers using smart automation technology to operate as optimally as possible. Here are a few food automation trends you should not miss out on:
Ensuring accuracy with Machine Vision
Machine vision is set to grow in the food & beverage industry for product inspection to improve efficiency. The application of higher-quality cameras with faster processors has exceeded human abilities by many folds. Machine vision can even see problems the human eye can't detect. In the food industry, machine vision is used to inspect products by color, ripeness, or if a product is undercooked or overcooked. Image processing can even detect spoilage and sort unsafe or undesirable products. Moreover, machine vision can detect imperfections in packaging that can lead to degraded quality or spoilage, mislabeled products, etc. With machine vision, food processors can more accurately find variations in size and color among food products, resulting in less waste and spoilage.
Internet of Things (IoT) for efficient results
IoT offers the possibility of bringing together different equipment for monitoring and control. This enhances the efficiency and operations of manufacturing plants. Sensor and IoT controls are used in quality control to manage additive manufacturing and other industrial processes. Real-time data facilitates seamless operations and improved oversight. IoT tools detect and prevent non-conformances in advance and reduce costly repairs and downtime.
Computer integrated manufacturing
From the manufacturing process to sealing, with computer-integrated manufacturing, all the barriers faced by any individual are eliminated and handled by the processor. As with this integration, the entire production process gets integrated information to exchange and work further accordingly, with digital controls.
Cobots
Cobots or 'collaborative robots' are known for their convenience as they require the electricity of a household blender, making them more affordable and in demand. Furthermore, with cobots, companies can design intelligent systems in their facilities that would enable robots and humans to work together in a streamlined manner. As of now, there are many applications for cobots in the food and beverage industry, from processing to packaging to distribution.
Simulation modeling, online sensors and remote access
With technological advancement, many computer software models now make sure to add a simulation process before doing any real-life testing to analyze, anticipate and solve (if any) problems that arise. These simulations are not limited to being used in product design but are also applied to production and processes.
Online sensors play a crucial role and help sense any movement or change in the surrounding environment and then provide a corresponding output to work with.
When equipment is highly digitized and automated, it is susceptible to setbacks, challenges and breakdowns. It is possible to connect with experts remotely and safely to address any issues from far away.
Flexible suction cups for grasping
While handling eggs or fragile food items or picking up fruits, a firm yet flexible grip is required to avoid dropping items in high-speed automation processes. The suction cup technology allows flexible picking up of things at high speed with increased efficiency due to its stable design and multistage actuation.
Robot packaging systems
Known for their fully integrated and automated packaging process, Robot Packaging Systems are ideal for products kept in pouches, such as grains, nuts, and ready meals. This packaging operates fast and efficiently while ensuring the product is adequately filled, sealed, coded, and labeled. These systems are deployed in high-yield food production industries to provide flexible and efficient operations.
Tray Sealing
The application of automation is very common nowadays for tray sealing for vegetables, fruits, ready-to-eat meals, meat products, etc. All the trays are assembled in a straight line, and later, a machine accurately fills the tray with the product. Once the filling is complete, the product is vacuum sealed and labeled for safety and accuracy.
Dosing and Scaling
Both these systems come in very handy when packaging food products like spices, powders, seasonings, and liquid and paste products. Multiple heads can be attached to any system according to the company's production requirements to ensure the speed and efficiency of production.
Although industrial automation is still at an infant stage, it holds a promising future. The technological and robotic enhancement in food and beverage is visibly changing and will grow further. With increased productivity, quality, and efficiency, this advancement has also helped contribute to a safer and healthier working environment for all individuals, consistent output and lesser wages paid. With continuous advancements in the field, complete automated manufacturing may become a reality soon.
CLICK HERE to subscribe to our FREE Weekly Newsletter