Anuga FoodTec India 2022
A sneak peek into the food automation market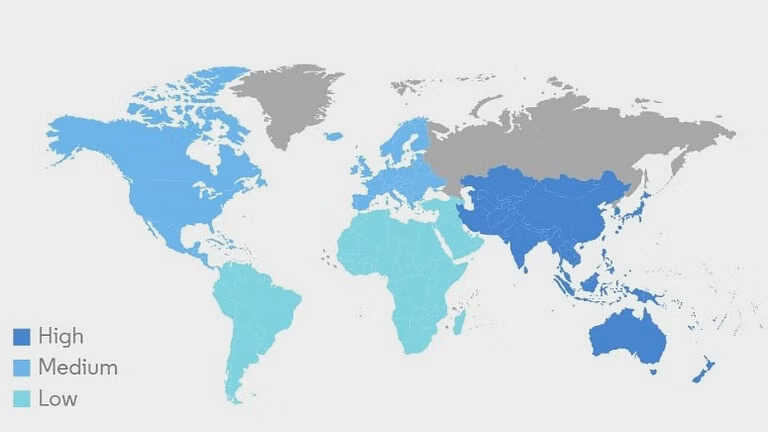 Food Automation Market - Growth rate by region Photo- Mordor Intelligence
By - FoodTechBiz Desk
The rising market of food automation ensures safety and increases the profitability of food manufacturers. Advanced automation technologies such as robotics, the internet of things (IoT), data analytics, digital twins, artificial intelligence, and the like are set to take center stage in the workplace. It does not come as a surprise that the food automation global market was estimated at US$10.3 Billion in 2022 and is predicted to reach US$15.1 Billion by 2030, growing at a CAGR of 4.9% from 2022-2030. Some of the factors driving this growth are growing strict international food safety regulations, consumer preference for processed and ready-to-eat food, and upgradation in automation.
Market segmentation
Based on type, the global food automation market is divided into motor controls, rotary, linear, discrete controllers, and visualization. Due to its multifunctional nature, the motor control segment is expected to have a significant market share.
Geographically, the market is split into North America, Europe, Asia Pacific, Latin America and the Middle East, and Africa. North America is set to hold a considerable market share during 2023-2028 and the Asia Pacific region market is growing fast due to increased demand for packaged and processed foods.
According to the application, the market is bifurcated into palletizing and depalletizing, packaging and repacking, butchery, grading and sorting, pick and place, and others. The packaging and repacking segment is expected to grow with the highest CAGR during 2020-30. This is due to the rising demand for advanced packaging solutions in the meat, fish, dairy, beverage, bakery, and confectionery sectors.
End-user segmentation divides the market into beverages and distilleries, oils and fats, dairy processing, meat, poultry and seafood, and fruits and vegetables. Among these, the beverages and distilleries segment are predicted to grow at the highest CAGR during 2022-27, owing to the demand for alcoholic and non-alcoholic beverages accompanied by health drinks.
Component-wise, the market is segmented into plant-level controls, enterprise-level controls, and plant instrumentation. The plant-level controls division is expected to grow the most during the forecast period.
Mode of operation is another way of segmenting the market into fully automatic and semi-automatic modes. The fully automatic mode is set to grow at the highest CAGR during the forecast period.
Food automation market analysis
As per reports, the global food automation market is expected to grow at a CAGR of 7.4% during 2023-2028. Automation in the food industry is growing with each passing day.
In 2021, the global food robotics market reached a value of US$ 1.9 Billion. In the future, it is expected to reach US$ 3.9 Billion by 2027, with a CAGR of 12.27% during 2022-2027.
Manufacturers are increasingly adopting automated systems since they provide higher efficiency, workplace safety, waste reduction, and speed.
With increasing buying power and changing lifestyles, the demand for processed foods is rising. This pushes manufacturers towards automation to achieve processing rates that can fulfill demands.
As per the Department for Promotion of Industry and Internal Trade (India), the suggested investment in the food processing industry in India grew from INR 67.81 Billion in 2020 to INR 127.81 Billion in 2021 is likely to uplift the food automation market growth.
Numerous cases of foodborne illnesses worldwide by unhygienically packed foods are a cause of concern. Food automation is being propelled due to its ability to ensure a safe food production process and stringent food safety regulations worldwide.
Industry players use application-specific robots and sensor-based systems to improve production output, quality, and workplace conditions.
Key players in the food automation market
Companies in the food automation market use strategies such as innovations, investments, acquisitions, and much more to grow their product offerings and gain an edge over competitors. Vying for the top spot in the food automation market are key players like Schneider Electric, Rockwell Automation, Honeywell International, Emerson Electric Company, ABB, Mitsubishi Electric Corporation, Siemens AG, and Yokogawa Electric Corporation, among others[1].
What the future holds
Post the pandemic, the economy is springing back to normalcy. Manufacturers are focusing on adopting advanced digital tools and automation to further their growth, giving the market good potential to follow an upward trend. Digitalization and automation in the food industry offer impactful benefits like higher effectiveness and productivity. In the future, this will lead to a larger chunk of food companies investing in automating their production and packaging processes. Marching ahead of the competitors can be a key motivator too. Sophisticated technologies like sensors, robotics, artificial intelligence, cloud, virtualization, communication networks, and the internet of things (IoT) are poised to be the future of the food automation industry.
References
https://www.reportlinker.com/p05798615/Global-Food-Automation-Industry.html?utm_source=GNW
https://www.businesswire.com/news/home/20221028005211/en/Food-Automation-Global-Markets-Report-2022-Analysis-Forecasts-2016-2021-2021-2026F-2031F---Motors-Generators-Motor-Controls-Discrete-Controllers-Visualization-and-Rotary-Linear-Products---ResearchAndMarkets.com
https://www.marketwatch.com/press-release/food-automation-market-report-2023-acute-analysis-of-global-demand-and-supply-by-2030-2023-02-13
https://www.imarcgroup.com/food-robotics-market
https://www.globenewswire.com/news-release/2022/01/24/2371821/0/en/Food-Automation-Market-Worth-29-4-Billion-by-2027-Market-Size-Share-Forecasts-Trends-Analysis-Report-with-COVID-19-Impact-by-Meticulous-Research.html
https://www.mordorintelligence.com/industry-reports/food-automation-market
[1] Global Newswire
Click HERE to subscribe to our FREE Weekly Newsletter