Anuga FoodTec India 2022
The rise of robots - Automation in the food industry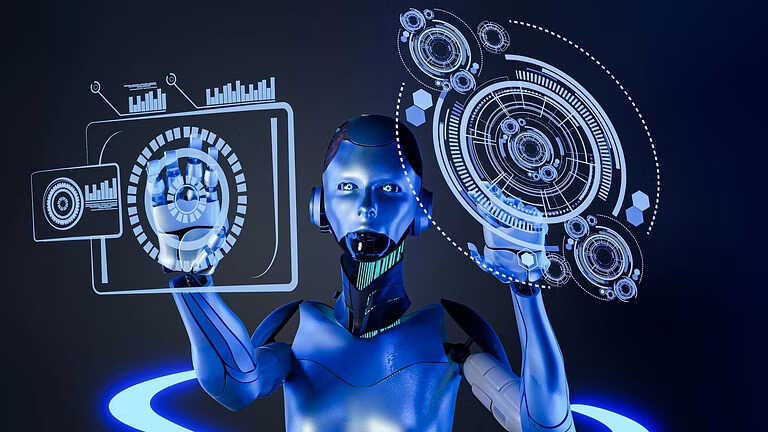 Photo - Freepik
Author - Insha Naureen
The food industry is evolving more than ever. Companies are experiencing a wave of technological advancements allowing them to optimize their manufacturing processes. Automation in the food industry is a rising trend that uses robotics, analytics, smart devices, artificial intelligence (AI), the Internet of Things (IoT), 3D printing, and data processing to make food processing more productive. Intelligent production and advanced automation confer benefits like improved food safety, shelf-life, consumer satisfaction, and business growth.
Large food service companies invest in Artificial Intelligence and robotics to enhance their production process. Presently, packaging and stacking are the two areas where food-handling robotics are prevalent.
AI and Robotics are revolutionizing the food industry
Staffing shortages have always marred the food and beverage sector and the COVID pandemic aggravated this issue. To overcome this, manufacturers are leaning towards automation and robotic solutions. Combining automation and labor can make assembling, quality assurance, production, and record-keeping more efficient. Artificial Intelligence takes care of the basics and saves time and labor, helping humans focus on tasks that demand conscious brain work and physical presence. Some current applications of automation in the food industry are discussed below.
Food manufacturing - Using robotics, the food is carefully segregated, picked, and sorted while keeping it clean and uniform. Robots can also effectively cut and chop fruits and vegetables with the apt blades according to the chop required.
Food packaging - Efficient and fast robotic packaging solutions can help workers fulfill market demands. Robots that move around can help retrieve items and manage store inventories, leading to faster store operations. Additionally, robots can assemble the constituents of a packaged meal after processing and organize the food in boxes for consequent storage and shipment.
Photo - Wavebreak Media LTD via freepik
Food delivery - The increased demand for processed, home-delivered food is pushing autonomous delivery. Drones are being used to deliver food. Grocery orders use robots that can assist in retrieving bags containing eggs, bananas, and cheese.
New product development - Companies can use AI to predict their product's market reception before it hits the shelves. AI can do this by applying algorithms to identify and predict the growth of trends in the food sector. Using consumer data and predictive analytics, AI has helped businesses reduce their new product rejection rates.
Food sorting - AI-based food sorting equipment can help sort and process foods leading to better quality, higher production, and less waste. Products with imperfections can be sorted out seamlessly using sensor-based visual filter technology, increasing consumer acceptance.
Supply chain operations - The supply chain can be enhanced using AI by product testing at every level, food standards surveillance, managing inventory, product tracking, and staff monitoring. Object recognition software and facial recognition can be used to check if workers wear masks and caps per food safety regulations.
Photo- user6702303 on Freepik
The benefits of automation in the food industry
Automation in the food processing industry can help increase efficiency, and scalability, enhance traceability, standardize quality control, improve workplace safety, and provide flexibility and overall quality. Automation can help the food industry achieve better results with a lesser workforce. Robotic systems can handle many inconsistencies and human errors during manufacturing that may cause problems for food companies.
Technologist taking necessary notes with help of digital tablet while standing at production department of dairy factory Photo - usertrmk via freepik
Traceability enhancement
Coupled with analytics, automation can enhance the traceability of raw materials and foods. It is easy to monitor and track the activities at all supply chain stages by using automated tracing systems with no manual input. Using the right data collection system can also help prove regulation compliance.
Quality control standardization
A food business has various stages like production, supply, and distribution, each of which needs to be controlled for optimum quality. Automation helps detect problems before they get aggravated, pinpoint where an issue started, and maintain reproducible quality from one lot to the next.
Worker safety
The addition of automated machines to basic safety measures can help companies avoid workplace injury costs. Tasks that could lead to an injury such as cutting and chopping can be taken care of by a continuously operating dicer and slicer.
Flexibility
While training workers to adapt to constant changes takes time, automated machines can be repurposed as desired. They can also be scaled up and down as per the seasonal demands without impacting the number of workers employed.
Efficiency enhancement
If implemented correctly, automation helps businesses establish efficient processes, saving time, limiting waste and increasing profits by reducing operational costs. Case in point, industrial ovens with integrated belt systems provide larger-scale production in a smaller area with less food contact.
Barriers and the future of automation in the food industry
One of the biggest misunderstandings about automation is that it will lead to job losses by replacing humans with machines. This is far from the truth. Modern automation systems and machines can work harmoniously with humans, helping them create more efficient processes. Some other barriers include people not wanting to change, fear among workers that the new technology will not work as expected, downtime, and worker training.
In the near future, automation can be an integral part of the food industry. To achieve this, it is important to focus on onboarding activities. Even the most sophisticated piece of equipment in the world will be of no use if the workers are clueless about what they are doing. Investing time and money in training operators on current automation can help companies earn huge profits, safety, and job satisfaction. The future of food is bright. The future is of automation!
Click HERE to subscribe to our FREE Weekly Newsletter